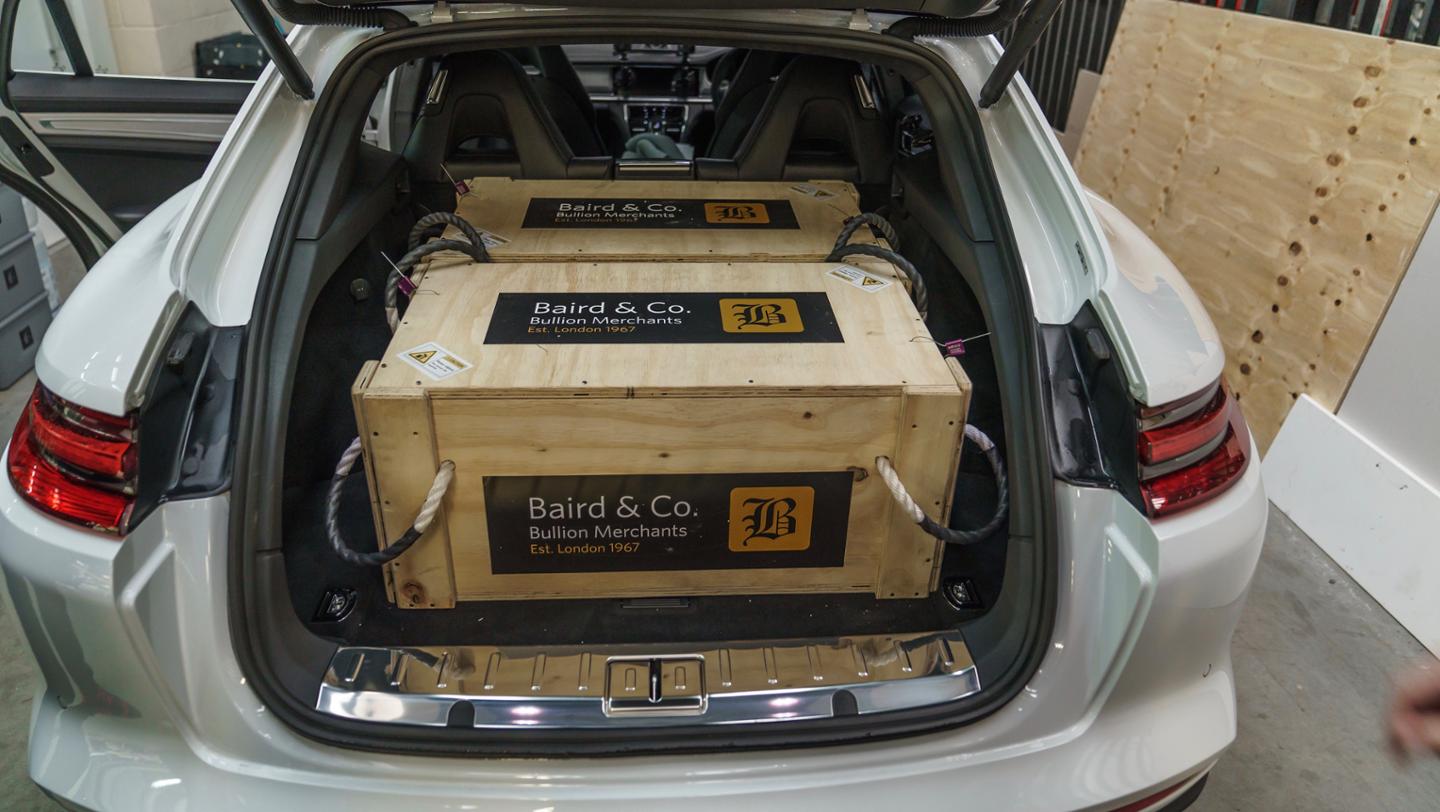 Gold Rush!
Just One Take: Shooting A £10 Million Gold Rush Adventure
Filming a dramatic Porsche cross-London shipment of £10 million worth of gold.
We are always excited to be offered the opportunity to create a ground-breaking production, and a recent project with Porsche was undoubtedly a special operation designed to push our crews to the limits.
The task
On behalf of the prestigious gold refiners Baird and Co. Porsche were given the job of transporting 24 gold bars with an approximate value of £10 million from a discreet East London refinery to a brand-new Hatton Gardens showroom.
Security, speed and load-bearing were the vital ingredients that made the Porsche Panamera Turbo Sport Turismo the best vehicle for the job.
With such a high-value cargo being transported, Porsche was faced with some serious challenges. Three vehicles were involved, with each Porsche Panamera having to hold four people; a driver, radio operator and two specialist security guards. As well as this, each car had to be capable of carrying two bespoke gold bullion crates, together weighing over 60kgs.
The Film
INP Media had just one chance to create the perfect film, because security concerns meant there could be no retakes. We simple had to get it right first time.
The challenge was intensified by the fact that, as it made its way across London, the convoy of Porsches had to maintain a rapid pace so that the precious cargo was on the road – and therefore vulnerable – for the minimum length of time.
It meant we had only one chance to film this unique journey and ensure that each shot was perfectly executed. Armed with a total of 24 cameras including Canon C300 MkII, 5D Mk IV and GoPro, we ensured it was all systems go, and our team was ready to get the perfect shots along the route.
To capture the iconic scene of gold cargo and the vehicles crossing Tower Bridge, we needed a helicopter. Unfortunately, with challenging weather conditions, sleet, rain and dense cloud, we became increasingly concerned that we would not get approval to fly and capture the shots we needed. As time drew nearer, the weather cleared at the last minute, so we got the vital permission to fly and managed to get the stunning aerial shots needed to do justice to this special operation.
We were fortunate to have access to a fourth Porsche Panamera Turbo Sport Turismo to film car to car action of the cars transporting the gold. Modified to comply with regulations, the back window of the vehicle was carefully taken out to give our cameraman access to the action.
Working alongside a high-security presence and with precise planning and meticulous logistics, we managed to create a powerful video which showed the capability of Porsche, showcased one of their latest stunning vehicles, and captured a truly unique London event.
The film can be viewed here: https://vimeo.com/252696305